Dr. Meneghini has an interest in cementless fixation in knee replacement for younger and active patients. He has performed multiple research studies1-4 on cementless total knee replacement, is considered a national expert on the topic and is a developer and designer of a modern successful knee replacement design that was recently featured locally in the news.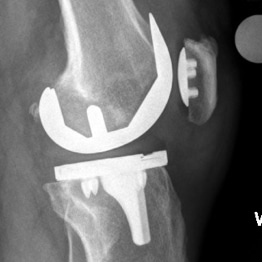 Knee replacement implants can be anchored to bone in two different ways: with bone cement or without cement using a highly porous implant surface that allows your own bone to grow into the implant. Cement fixation has historically been the "gold standard" for fixation in most all patients undergoing a knee replacement and has resulted in long-term survival of greater than 90% at 15 years.5 However, cement can fail in the long-term due to wear and tear of patient activity. You can think of it similar to grout in your bathroom or kitchen tile.
Over time, the grout can break down and fail. The cement in implants can do that as well if in place for many years in active patients. In fact, recent research supports this concept reporting that younger more active patients have a greater likelihood their knee implants will loosen up and fail sooner than in older patients.6,7 Therefore, with modern biomaterials to support implant design and bone ingrowth, cementless total knee replacement has emerged as a consideration for younger and more active patients. In the picture of a cementless knee replacement X-ray below, you can see the implant has grown into the bone itself for a more durable and longer-lasting bond that can likely withstand greater activity levels. Dr. Meneghini is excited about offering cementless fixation to knee replacement patients who are younger and more active and would be happy to discuss personally during a consultation.
References
Ritter MA, Meneghini RM. Twenty-Year Survivorship of Cementless Anatomic Graduated Component Total Knee Arthroplasty. J Arthroplasty. 2009.
Bhimji S, Meneghini RM. Micromotion of cementless tibial baseplates under physiological loading conditions. J Arthroplasty. 2012;27(4):648-654.
Bhimji S, Meneghini RM. Micromotion of cementless tibial baseplates: keels with adjuvant pegs offer more stability than pegs alone. J Arthroplasty. 2014;29(7):1503-1506.
Meneghini RM, Daluga A, Soliman M. Mechanical stability of cementless tibial components in normal and osteoporotic bone. J Knee Surg. 2011;24(3):191-196.
Ritter MA, Berend ME, Meding JB, Keating EM, Faris PM, Crites BM. Long-term followup of anatomic graduated components posterior cruciate-retaining total knee replacement. Clin Orthop Relat Res. 2001(388):51-57.
McCalden RW, Robert CE, Howard JL, Naudie DD, McAuley JP, MacDonald SJ. Comparison of outcomes and survivorship between patients of different age groups following TKA. The Journal of arthroplasty. 2013;28(8 Suppl):83-86.
Meehan JP, Danielsen B, Kim SH, Jamali AA, White RH. Younger age is associated with a higher risk of early periprosthetic joint infection and aseptic mechanical failure after total knee arthroplasty. The Journal of bone and joint surgery. 2014;96(7):529-535.